Roman Missal Translation Concerns
NEW February 7: English is not Latin. Read the LaCroix article HERE.
Purpose: To collect and voice the complaints of priests and laity about the awkward grammar and diction of the new Roman Missal's "English translation" so as to move the USCCB Committee for Divine Worship to hear the concern and take steps to improve the texts used for our most important liturgical prayer.
In early October 2017 a letter was sent to the USCCB Worship Committee urging rejection of the Baptismal Ritual translated according to Liturgiam authenticam in lieu of Pope Francis' Magnum Principium. The ritual, however, was approved by the USCCB
with an overwhelming margin. Further correspondence with the Worship Committee is being considered.
Chairs:
Kevin Clinton, kevin.clinton@npcatholic.org and Louis Arceneaux, CM, louiearceneaux66@gmail.com
AUSCP Leadership Team Liaison: Kevin Clinton
For further information or to offer your thoughts, please contact AUSCP through Office@uscatholicprists.org
MORE GOOD READS –––––––––––––––––
From Mike Ryan in America: Why Pope Francis is right to revisit the new Mass translation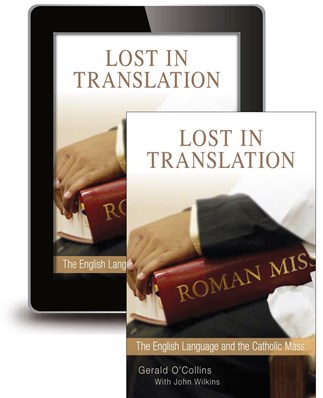 In this book, Gerald O'Collins, SJ, takes a systematic look at the 2010 English translation of the Roman Missal and the ways it fails to achieve what the Second Vatican Council mandated: the full participation of priest and people. Critiquing the unsatisfactory principles prescribed by the Vatican instruction Liturgiam Authenticam (2001), this book, which includes a chapter by John Wilkins tells the story of the maneuverings that sidelined the 1998 translation approved by eleven conferences of English-speaking bishops, criticizes the 2010 translation, and illustrates the clear superiority of the 1998 translation, the "Missal that never was."
Gerald O'Collins, SJ, is an adjunct professor at Australian Catholic University and a research fellow at the University of Divinity in Melbourne. He taught at the Gregorian University in Rome for thirty-three years and is well known as a lecturer and broadcaster around the world. Fr. O'Collins has had hundreds of articles published in professional and popular journals and authored or co-authored sixty-seven books, including The Second Vatican Council: Message and Meaning (Liturgical Press, 2014).
John Wilkins edited the London-based international Catholic weekly The Tablet from 1982 until his retirement in 2003.
Lost in Translation, by Gerald O'Collins, SJ: A book review by the Association of Catholic Priests in Ireland. READ it HERE.
What did I just Pray? A reflection on the liturgical text by Rita Ferrone. READ it HERE.